Your journey starts here.
What is your goal? 
Do you want to increase your fitness, or did you sign up for your first triathlon race and need to learn how to crawl? Are you an experienced ultra-runner looking to take the next step, or did you qualify for Ö till Ö and need some more specific coaching? 
Whatever your goal is, I specialize in coaching for endurance sports: running, trail running, cycling, swimming, triahtlon, swimrun, ultra running, ect. 
My  athletes prepare for all kind of races (Stockholm triathlon, half Ironman and Ironman, swimruns, Ö till Ö, Vätternrundan, Stockholm marathon, Lidingöloppet, ect) or train… just because it's fun! 
It does not matter where your start from. 
It's all about where you want to go.  The athletes I train have all levels, from beginners wishing to complete a full Svensk Klassiker, to some of the best amateur triathletes in the country on their way to various podiums.
Depending on your current level, form and background, we establish goals, milestones, and a personalized training plan to take you all the way to the finish line, regardless of the one(s) you want to cross.
Wether you are a beginner or a seasonned athlete, I'll make sure your training is fully personalized and adapted to both your level, your ambition and your lifestyle.
Training & Lifestyle
Your training plan should be adapted to your lifestyle, and not the other way around.
Before we start off, we make an inventory of your lifestyle, how much you already train, what your level is and what are your ambitions.
Your training plan
Your training plan gives you indications, day after day and week after week how your training volume and instensity should look like, detailed down to the sessions.
I adjust your training plan as we go, in line with your development and feedbacks.
Training sessions
Your training plan includes the detail of each of your session: duration, distances and intensity are described to give you guidelines when I'm not around.
That way we guarantee that you optimize your training time and always train the right volume, at the right intensity all the way to the finish line.
Follow-up
I follow your progress closely as you go, almost on a daily basis.
In all my coaching plans, communication is always unlimited, and we make sure together that you have all the tools you need to go through your training plan.
The finish line is closer than you think.
Get a lot more than individual coaching with Envol.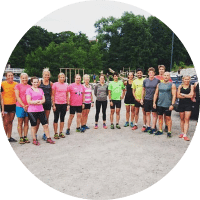 Group trainings.
As part of your training plan, I will sometimes invite you to the structured group sessions I lead. These can be for example trail running sessions, swimming or triathlon training. They are a good opportunity for you to develop and meet new athletes, and for me to optimize your follow-up.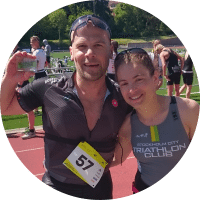 Meet other athletes, make new friends.
My athletes often train for the same races. Sometimes, I'll pair you up with some of my other athletes of the same levels. Shared fun is double fun.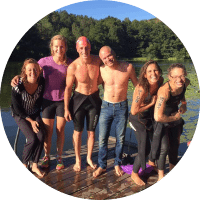 The Envol Community.
Because as a result, we became a good bunch of athletes of all levels that just really enjoy training together. We try to coordinate our swimming sessions, go out together for a bike ride or motivate each other's during our interval sessions. Welcome to the club!
Meet some of Envol Athletes…
and get inspired by their stories!
Diane
3rd place Ö till Ö mixed division, 1st place IronMan 70.3 Aix en Provence, 3rd place Ångaloppet swimrun, 5th place Vansbro triathlon SM, ect….
I have always been active in my life, but I needed to restructure my training. I needed expertise to optimize the training load and gain perfect balance between hard workouts and easy ones, as well as an objective perspective on my weaknesses.
Nicolas only gives constructive feedbacks, regardless of if they are positive or negative. Besides he always explains the background behind his plan which helps pushing when needed and take it easy when required.
I am injury free and stronger now, but most of all, confident that i can deliver at my best on D-day !
I met Nicolas back in 2014 when he was coaching me and my colleagues via Urban Tribes. A year later I signed up for my first sprint triathlon. I did ok but ok has never been enough for me… so I asked Nic to coach and to prepare me for a set of goals in 2016. He took me from sprint, via olympic, to half IronMan distance in less than six months, and with much better results.
And in 2017 I'm going full monty with IronMan Italy !! 
Sebastien
Lawyer, father of 2, husband and  triathlete
Nico helps me structure my training so it fits my
lifestyle, wich is really crucial to me!
Nicolas
is extremely quick to respond and
adapts my training to my busy schedule.
Most importantly he is a great (and patient) guy.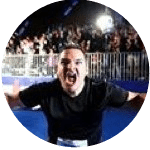 Gregory
From -100 to IronMan
(In his own words)
"Hi, I am overweight, I can barely walk, and I won't be able to get into the water for the next 2 weeks. I heard from the people you train that you are a great coach. Would you help me to complete IronMan Kalmar?" 
That's how it sounded when I contacted Nicolas in February 2016. In the middle of my IronMan training, a small pain in the hip had turned into a septicemia. After some extensive surgery to clean it and assess if I would need a hip prosthesis, I wasn't even sure if I would be able to walk. But I made a promise to myself, that I would hear "Greg you are an Ironman" 5 months later, whatever effort it would take.
So Nicolas told me "challenges exist to be overcome" and we tackled the rest of my training, building a base, getting my stamina back on track and more importantly listened to my body's response to increased effort. 
Nicolas adjusted my training plan and took into account my new challenges,such as thrombosis post-surgery, or even kidney stones. In spite of everything, when I woke up at 3.30 in Kalmar on the morning of the 20th of August, I was ready. 
Arriving at the bike park, I'd have pain in my pelvis for 2 weeks, but I was happy, happy to be with all these athletes who have trained hard and I dreamt to be with for that day. I knew the only fight for me would be against myself and my pain.
Swim went great, bike went as expected, but 2km into the run, tremendous pelvis pain stabbed me. With still 9h to complete, I walked... for 7h30. At 15h, I arrived on the red carpet and the speaker, Paul, came to me to say "Greg you are an Iroooooonman!!! 
So, when I am asked why choosing Nicolas, the answer is easy. On top of being a great human being, Nicolas is making your journey personal and adjusts it to you and your challenges. 
Individual coaching
Short term
Assessement of your level.

Personalized training plan.

One individual coaching session/month.

Unlimited communications.

Free access to Envol group training sessions.

Conditions: Minimum 1 month, price ex. tax (6%)
Go short term
Individual coaching
Long term
Assessement of your level.

Personalized training plan.

One individual coaching session/month.

Unlimited communications.

Free access to Envol group training sessions.

Extra individual coaching sessions: 500kr/hr

Conditions: Minimum 6 months, price ex. tax (6%)
Go long term
Individual coaching
Per session
When you need an individual coach for a very specific objective;

Adult individual crawl lessons

Individual introduction to open water swimming

Improve your biking technique

Evaluation of your running,

Ect...
Book a session