Training and coaching for swimming, running, swimrun, triathlon, trail running, cycling, ultra-running, and other endurance multi-sports, for all levels from beginner to competitive athlete.
Envol is the french word for "Take-off".
We believe the world out there is full of experiences to be have and achievements waiting to be fulfilled. We want to share our belief with you.
Wether you want to become a better swimmer, cyclist or runner, prepare yourself for your first triathlon or dream of a qualification to Ö till Ö, Envol tailors a training plan adapted to your level and objectives.
But being an Envol athlete is much more than that. Read more about Envol coaching!
Escape Sweden and enjoy the off-season to get stronger: Envol takes you swimming, biking and running in the sun of Southern France and Spain. Our training camps are famous for combining highly qualitative training with some fantastic food and wine tastings.
Check them out and sign up today!
"Sometimes my images get to speak for themselves or my words get to paint the picture. I love it when I get the chance to deliver the full surround experience." -Catarina Axelsson
Most pictures on this website are credits of Catarina (and all rights reserved of course)
Envol Trail/Reflex Running.
8 trail running sessions every Wednesday 18:30, from the 19th of October to the 7th of December
Night trail running on single tracks, forest and rocky trails.
Every running level welcome.
At this time of the running year, the big focus will be to develop strength and power with always 3/4 of the sessions based on improving this two points.
2 coaches for a better quality and taking more care of all of you:
Nicolas Remires (www.envolcoaching.net) and Ingmarie Nilsson (www.blog.yoging.se)
Gear needed:
Headlamp, running shoes (with good grip for muddy and wet running)
Your journey starts here.
What is your goal? 
Do you want to increase your fitness, or did you sign up for your first triathlon race and need to learn how to crawl? Are you an experienced ultra-runner looking to take the next step, or did you qualify for Ö till Ö and need some more specific coaching? 
Whatever your goal is, I specialize in coaching for endurance sports: running, trail running, cycling, swimming, triahtlon, swimrun, ultra running, ect. 
My  athletes prepare for all kind of races (Stockholm triathlon, half Ironman and Ironman, swimruns, Ö till Ö, Vätternrundan, Stockholm marathon, Lidingöloppet, ect) or train… just because it's fun! 
It does not matter where you start from. 
It's all about where you want to go.  The athletes I train have all levels, from beginners wishing to complete a full Svensk Klassiker, to some of the best amateur triathletes in the country on their way to various podiums.
Depending on your current level, form and background, we establish goals, milestones, and a personalized training plan to take you all the way to the finish line, regardless of the one(s) you want to cross.
Wether you are a beginner or a seasonned athlete, I'll make sure your training is fully personalized and adapted to both your level, your ambition and your lifestyle.
Training & Lifestyle
Your training plan should be adapted to your lifestyle, and not the other way around.
Before we start off, we make an inventory of your lifestyle, how much you already train, what your level is and what are your ambitions.
Your training plan
I base your training plan on your level, your background and your lifestyle. I adjust your training plan as we go, based on your development and feedback.
Your training plan gives you indications, day after day and week after week how your training volume and instensity should look like, detailed down to the sessions.
Training sessions
Your training plan includes the detail of each of your session: duration, distances and intensity are described to give you guidelines when I'm
That way we guarantee that you optimize your training time and always  the right volume, at the right intensity all the way to the finish line.
Follow-up
I follow your progress closely as you go, almost on a daily basis.
In all my coaching plans, communication is always unlimited, and we make sure together that you have all the tools you need to go through your training plan.
The finish line is closer than you think.
Get a lot more than individual coaching with Envol.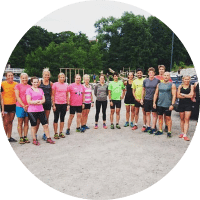 Group trainings.
As part of your training plan, I will sometimes invite you to the structured group sessions I lead. These can be for example trail running sessions, swimming or triathlon training. They are a good opportunity for you to develop and meet new athletes, and for me to optimize your follow-up.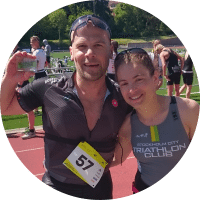 Meet other athletes, make new friends.
My athletes often train for the same races. Sometimes, I'll pair you up with some of my other athletes of the same levels. Shared fun is double fun.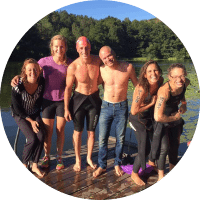 The Envol Community.
Because as a result, we became a good bunch of athletes of all levels that just really enjoy training together. We try to coordinate our swimming sessions, go out together for a bike ride or motivate each other's during our interval sessions. Welcome to the club!
Individual coaching
Short term
Assessement of your level.

Personalized training plan.

One individual coaching session/month.

Unlimited communications.

Free access to Envol group training sessions.

Conditions: Minimum 1 month, price ex. tax (6%)
Go short term
Individual coaching
Long term
Assessement of your level.

Personalized training plan.

One individual coaching session/month.

Unlimited communications.

Free access to Envol group training sessions.

Extra individual coaching sessions: 500kr/hr

Conditions: Minimum 6 months, price ex. tax (6%)
Go long term
Individual coaching
Per session
When you need an individual coach for a very specific objective;

Adult individual crawl lessons

Individual introduction to open water swimming

Improve your biking technique

Evaluation of your running,

Ect…
Book a session
About the Coach
My Name is Nicolas Remires and I am a french multi-sports athlete and endurance sports coach in Stockholm, Sweden.
After obtaining a Master's Degree at the University of Health and Sports in Font-Romeu, France, I traveled, lived and raced all over the world, to finally settle in Sweden with my wife. In Stockholm, where I moved in 2010, I created "Le Peloton", the popular cycling group, as well as the infamous Sickla Trail Run. 
I coach athletes of all levels, for races from sprint triathlon to ironman distance, 5km to ultra marathon, trail running, sky running, swimrun and cycling. 
My achievements as an athlete include: 4th ÖtillÖ World Championships (2016), 1st Utö Swimrun (2015), 1st Borås Swimrun (2015), 2nd Ångalöppet (2014, 2015), 2nd Borås Swimrun (2014), many marathons, triathlons (sprint to Ironman), and cycling races. 
Envol is proudly powered by:
Take your training to new horizons.
with Envol training camps.
Swimming and running in Barcelona
13th-17th of October 2016
Escape the October darkness for a long week-end of training in Barcelona
Based in Barcelona, this swimming and running camp is open to everybody, regardless of your level.
The training sessions will be coached by Teresa Fullana, from Tfswim and Nicolas Remires, from Envol. Whether you want to compete in swimrun or triathlon in 2017, or simply want to improve your swimming technique and run better: you are warmly welcome to this training camp!
All the training sessions will take place in Barcelona center: at the swimming pool l'Hospitalet, down by Barceloneta's beach and the running and trail running will depart from the city.
Program
(might be adapted depending on attendance) 
Thursday 13th – Morning 7.30: Pool 60min / Breakfast / OW 60min. Afternoon 17:00: Run 75min
Friday 14th – Morning 7.30: Pool 60min / Breakfast / OW 60min. Afternoon 17:00: Run 75min
Saturday 15th – Morning 7.30: Pool 45min / Breakfast / Swimrun 2h. Afternoon free (or possibility to organise an extra session)
Sunday 16th – Morning 7.30: Pool 60min / Breakfast / OW 90min.
Price : 140€
Does not include :  transport & housing
Recommendation
Flights: (from 12th to 16th, Ryanair, NYO-BCN, ≈200€/pers)
Hotel / Hostel /Airbnb close to swimming pool L'Hospitalet (Contact info@bigbluest.com for some help )
Options
Bike rental (from Velodrom Studio).
Guided ride with local cyclists.
Massage and treatments.
Saturday swimrun practice on Costa Brava (North of Barcelona or Barcelona swimrun course): transport, lunch.
Book before the 30th of September!