Transitions are crucial in swimrun especially in short races or races with a big amount of transitions (like ÖtillÖ and its 52 transitions!)
The best way to perfect them is to repeat. It is always the same routine. It doesn't require a lot of time of training, but if it is well done, you will save time and energy. Mastering transitions, knowing the course and being confident in your gear are three things that will make your swimrun race more fluid and less stressful.
This video shows two experienced swimrunners who are teaming up together for the first time for the ÖtillÖ Final15 race. The routine of the water entry should always be the same:
– Close your wetsuit.
– Put the goggles on.
– Fix the tow line.
– Pullbuoy on and paddles on.
The fresher swimrunner should communicate to make sure they are both ready to start swimming. It is more efficient to slow down on the last 50 meters and do the routine correctly instead of rushing and fixing your gear in the water where you can't see as well, especially in rough conditions.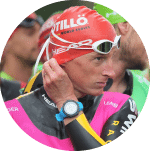 About Nicolas Remires
Nicolas Remires is a French endurance sports coach based in Stockholm, specialised in triathlon and swimrun. Nicolas coaches athletes of all levels, for races from sprint triathlon to ironman distance, 5km to ultra marathon, open water swimming, swimrun and cycling.
His swimrun achievements include: 4th and 3rd ÖtillÖ World Championships (2016-2015), 1st Utö Swimrun (2015), 1st Borås Swimrun (2015-2016), 2nd Ångalöppet (2014, 2015).