If you run in Stockholm, you have probably seen her. Ingmarie Nilsson is always running, with a smile on her face. She has been running all her life reaching some top performances at her best: 1st place at Stockholm marathon, Tjejmilen and Finnkampen, top 10 in London marathon, Chicago marathon and Twin Cities marathon. If it is not enough to understand how fast she was, her personal bests are 2.33.03 on marathon and 32.58 on 10km.
I had the chance to meet Ingmarie three years ago when we started coaching together for Urban Tribes.
Because she likes to try new experiences, she decided to take on the challenge of swimrun. Ingmarie learnt how to crawl and started racing some sprints and other short swimruns. At 50+ years old, her goal is to do as good as she can in this new activity and in 2017, she will start racing some longer swimruns. Envol Coaching will help her to reach her objectives to race better and longer this year.
Ingmarie is an inspiration, really active in the swimrun community, nurse, running coach, yoga instructor, she is also sharing her experiences on her
blog: blog.yoging.se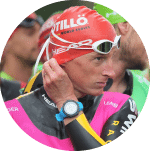 About Nicolas Remires
Nicolas Remires is a French endurance sports coach based in Stockholm, specialised in triathlon and swimrun. Nicolas coaches athletes of all levels, for races from sprint triathlon to ironman distance, 5km to ultra marathon, open water swimming, swimrun and cycling.
His swimrun achievements include: 4th and 3rd ÖtillÖ World Championships (2016-2015), 1st Utö Swimrun (2015), 1st Borås Swimrun (2015-2016), 2nd Ångalöppet (2014, 2015).