If think you need to choose between a brilliant career in finance and an ambitious endurance athlete life, then Jenny is here to prove you wrong. Jenny Ramstedt isn't only a top trader at one of Sweden's biggest banks. She is also a big fan of outdoor activities and wouldn't settle for less than top goals at cross-country ski and running races.
See, while you were watching Vasaloppet on TV last week-end, she was finishing the race in 65th position in the women division, with an amazing time (and PB) of 5.41 hours. Before that, she had also reached major goals, such as top 10 and 1st age grouper at both Moraloppet and Orsa Marathon.
How to improve your time at the Ultravasan by 45 minutes.
Jenny and I started working together in August 2016 just before one of her important running race, Ultravasan 90km. Jenny's challenge was to actually pace herself to go through the race efficiently. We worked to have her take control of her race. This little tweak in her training and mindset leveraged incredible results. Jenny improved her time at the Ultravasa with 45 minutes, and took the 10th place. The very same tactic at Lidingöloppet gave her an improved time of 10 minutes, and made her reach the top 30.
Balance training to achieve goals.
Living in Stockholm, it can be a challenge to keep the motivation and a good level in skiing. A big part of the training plan was to review the mix of training activities to maximize the results. We designed a plan around her ski races calendar throughout the years to prioritize relevant types of activities based on the coming goals. So after an incredible Vasaloppet, you will now find Jenny out on some more outdoor adventures. Next: the long Trail Courmayeur, as well as another Ultravasan 90 and Lidingöloppet. With goals higher than ever, obviously!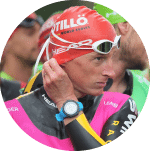 About Nicolas Remires
Nicolas Remires is a French endurance sports coach based in Stockholm, specialised in triathlon and swimrun. Nicolas coaches athletes of all levels, for races from sprint triathlon to ironman distance, 5km to ultra marathon, open water swimming, swimrun and cycling.
His swimrun achievements include: 4th and 3rd ÖtillÖ World Championships (2016-2015), 1st Utö Swimrun (2015), 1st Borås Swimrun (2015-2016), 2nd Ångalöppet (2014, 2015).